THE GARDEN & BUSINESS
POND SPECIALISTS.

Here at Denchworth Pond and Garden Services We are pleased and proud to be able to offer you total dedication to helping your Pond and Garden look their very best. We have over 20 years experience in Pond Construction and Fish Health. We use this experience to offer advice and expert services to all of our customers. The services we offer include the following:
• We can Design and Construct your Pond. • We can Refurbish or Rebuild your existing Pond. • We can Clean and Purify your Pond.
• We can bespoke Build you a Pumphouse or garden shed. • We offer a wide range of other Gardening and Landscaping services.
• We sell all the best, most economical Pumps, Filters and Vacuums all at Industry rates. • We stock all the top brands of Specialist Koi Fish Foods.
POND CONSTRUCTION in Oxfordshire

POND DESIGN IN OXFORDSHIRE: We can build any Pond to your exact design, or design one for you.
Whether you desire the quintessential English Garden Pond or a larger body of water for your Country Home, School/College or Business premisis. We are expert at constructing brooks, water-falls, fountains and all other water features, and we will provide your Pumps and Filtration systems. Take a look at our Pond Construction page, where we show you the Pond Construction process in greater detail.
Back to Top of Page.

pond refurbishment in oxfordshire

PONDS REBUILT IN OXFORDSHIRE:
Whether you are in need of replacing your Pond Liner, Pumps or Filters etc. Whether you wish your Pond redressed or the watercourse to your water-fall repointed, or whether you want your Pond entirely Rebuilt from the existing model, Denchworth Pond and Garden Services will take pride in doing this for you .
See our Pond Refurbishment Page to see our Refurbs and Rebuilds in more detail.
Back to Top of Page.
POND CLEANING IN OXFORDSHIRE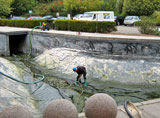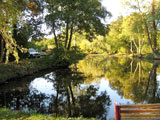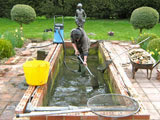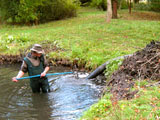 We are equipped with the most powerful Vacuums to clean your Garden Pond, and the most powerful Pumps to clean your Village Pond, Your Lake, or your Business Park Water feature. Please see our Pond Cleaning Page to see our Cleaning processes on a wide variety of different sized bodies of water.
Back to top of Page

We offer a wide range of Garden Services, working anywhere from Village Greens to Country Estates.
We can bespoke build you a Garden Shed to your exact requirements or a Pumphouse for your large Pond.
See our Garden Services Page for more information.
Back to top of Page
SALES: SPECIALIST KOI FISH FOODS AND POND EQUIPMENT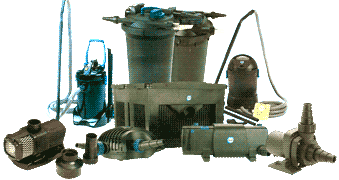 Sales: Koi Fish Foods - We stock the full range of Medicarp and Kockney Koi fish foods.
For full dietary details, prices and a full Paypal service, please see our Sales: Specialist Foods page.
Sales: Pond Equipment - Pumps, Filters, Pond Vacuums and Pump/Filter/UV Sets.
For the best prices outside of Trade and a full Paypal service, please see our Sales: Equipment Page.
Back to top of Page